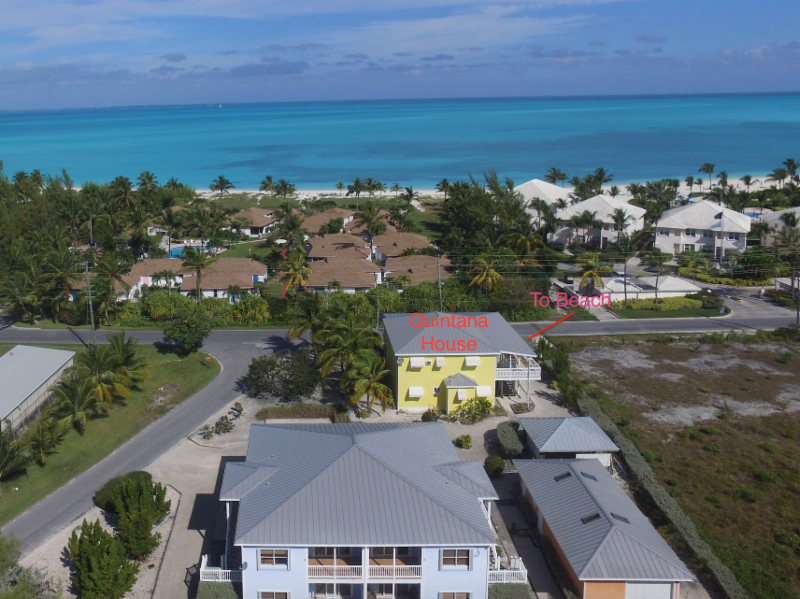 August 27, 2016 Listing Price: $675,000.00
The Quintana House is a spacious, fully furnished, 4 bedroom, 3 full bath, 2 half bath, two story home with endless options for outdoor living. It is situated on Treasure Cay Drive, across the street from the world famous Treasure Cay Beach and within the desirable residential resort of Treasure Cay. The expansive covered veranda provides elevated views of the Sea of Abaco and Atlantic Ocean on one side and Brigantine Bay on the other.
This attractive two level home offers 2,740 square feet of comfortable living space under air, plus 1,240 square feet of second level covered balcony, perfect for entertaining or relaxing as you catch the Bahamian breezes and enjoy an assortment of alluring water views.
Also included in this property "package" are a 640 square foot carport, plus a 1,000 square foot garage (outfitted with a convenient 1/2 bath) and a 400 square foot gazebo (another entertaining option) and are all situated on a 12,969 square foot parcel extending from street to street. Extras include a generator and water reservoir.
The property which is zoned multi-family, offers the opportunity to utilize this very large home as a personal family residence, or each of the two levels for separate luxury rental income or also operating it as a bed and breakfast. Seize this investment opportunity today!